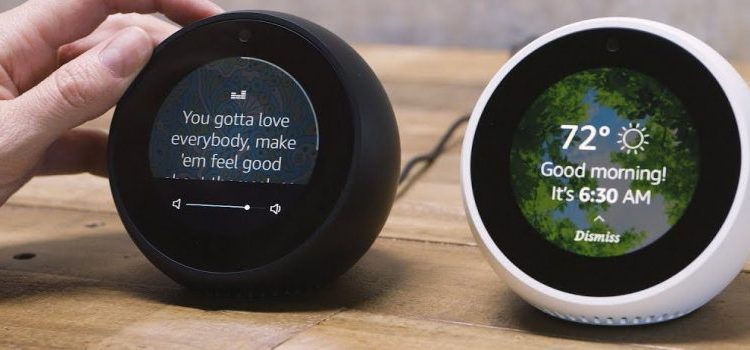 An Amazon Alexa enable smart alarm clock. Echo Spot is small  designed to fit anywhere in your home 2nd generation far-field voice...

An Amazon Alexa enable smart alarm clock. Echo Spot is small  designed to fit anywhere in your home 2nd generation far-field voice recognition to watch video flash briefings, see music lyrics, weather forecasts, to-do and shopping lists, browse and listen to Audible audio books. All hands-free it connects to Alexa, a cloud-based voice service to play music, read the news, answer questions, set music alarms, control smart home.
The Good
Connects to Alexa
Video playback capabile
Can Connect with multi room speaker
Its kinda adorable
Can show you the song lyrics as you listen
The Bad
2.5 inch screen
poor sound quality
Alarm can only be set by voice command
$130 alarm clock
No celebrity voice customization
The Bottom Line
a smart alarm clock is fare to unnecessary to even be considered niche, spend the few extra dollars and buy the Eco Show.
The Eco Spot is another in the ever expanding market place of Alexa enabled devices. It looks really cool so for a brief moment I got pretty excited to see what this little guy was all about. So it turns out the Echo Spot is a glorified alarm clock. Lame. The Spot does have Alexa so that's good, but it's a $130 alarm clock, that's bad. Don't get me wrong, it is definitely more than just a smart alarm clock, but that is its main point – a Sleek Alexa enabled voice-assisted bedside peripheral… with a camera
Whats to like?
Echo Spot's screen is a useful addition to Alexa. Aesthetic design is great, the sound is decent to nice for such a tiny speaker. I love that I can play video from Amazon Video and youtube. Great Music functions with compatibilities from Amazon Music, Spotify, and Pandora. Add it that you get free audio calls to US, Mexico, and Canada. Plus it's got all the benefits of Alexa, like buying more shampoo and controlling my thermostat.
Why Bother?
It's another Alexa device, with a camera pointed at my bed. Do I need or want a camera in my bedroom, another camera in my bedroom? The screen is 2.5 inches, I'm not really going to bother watching anything on that. I just keep thinking, I know, I know but the price is high and the video ecosystem is almost useless.
Final Thoughts
For me this is a pass, but to all the Uncle Daves' out there that will ask me about picking one up, ask yourself 3 questions. Do you have $130 for an alarm clock but not $180 for the Eco Show? Do you have amazon prime, music and video subscriptions?  Do you like the idea of a device always looking at your bed? If all three are a yes, happy purchasing! For me this is a hard pass. Would it be to much to ask to have custom voices enabled with celebrity voices, then have it wake me up with a preset of updated information I require daily. I would buy this right this instance if it could have Anthony Hopkins voice wake me up with the weather, traffic updates, followed by last nights Yankees score and what ever President Trump has tweeted through out the night. Just imagine Jude Law saying COVEFE, there is no snooze button on that, and that I need.