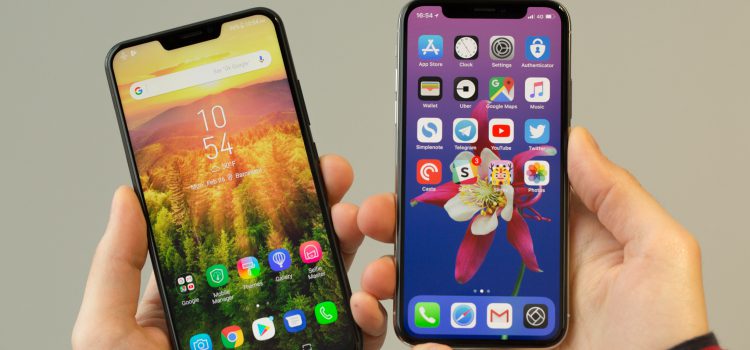 It was Taiwanese tech company Asus' turn on Tuesday to unveil its latest flagship phone at Mobile World Congress. While better known for its...

It was Taiwanese tech company Asus' turn on Tuesday to unveil its latest flagship phone at Mobile World Congress. While better known for its various PCs and gaming products, Asus has been making smartphones for quite some time. Asus is taking on the iPhone X with a cheap android knock off. The Zenfone 5 is a slim, sleek, attractive device, but the first thought many people had was … this looks like the a cheap iPhone X..
Available in three different models: The $500 "premium" Zenfone 5Z, the standard Zenfone 5, and the entry-level Zenfone 5 Q  , Asus' new phones boast specs that read much like those of industry leaders, including dual rear cameras with a 2x zoom, powerful stereo speakers, face unlock, and a bunch of regular features with "AI" tacked in front, like "AI" charging, and an "AI" display with a 90-percent screen-to-body ratio. The Zenfone 5 even has a notch at the top of its screen similar to the new top product from Steve Job's old company.

CEO Says its not Fruit Company?
Asus CEO Jerry Shen sees the Zenfone as a totally different proposition next to Apple's luxury piece of kit."Our price will be very affordable and attractive and for everyone to enjoy compared to the fruit company," Shen said. The company didn't say how much the Zenfone 5 will cost, but its top-end 5Z phone will be around $590.
When Asked about the similar Apple notch at the top Shen Stated that Asus needed to include a light sensor and forward-facing camera on the front of the phone. But if it removed the top bezel, these would have to be squeezed in at the bottom of the screen. Shen explained that this would leave the front camera pointing squarely at his chin, demonstrating his selfie pose for us. "From the beauty decision, from the user experience decision, the team decided to use it this way and I agree," said Shen about the notch. "We do not want to copy, and actually they told me we are thinner, we are nano."
Asus has made a major leap forward in design. The Zenfone 5 fits a 6.2-inch display within the same physical footprint as the 5.5-inch Zenfone 4. That's thanks to a thin-bezel design that results in a 90 percent screen-to-body ratio. In its effort to appear more advanced, Asus accompanies the screen with some spurious AI claims. The company has an automatic adjustment for color temperature — much like Apple's True Tone on the iPhone X — and a sensor to keep the screen on while you're looking at it, which it collectively calls AI Display. They use the word AI loosely at Asus.
Quick Spec Look
Processor Qualcomm Snapdragon 636
OSAndroid 8.0 (Oreo)
Memory 64 GB, 4/6 GB RAM
Camera Dual: 12 MP (f/1.8, 24 mm, 1.4 µm)
Size 6.2 inches IPS LCD
The Final Thought
They Can deny this all they want, this was made to look like the iPhone X, only that is no iPhone. Cheap, Androidy, and nothing special. Down to the lackluster Zenimojis… yeah they went there. They did miss one big feature of all the other androids and the iphones which is water proofing. Asus will release the Zenfone Lite in March, followed by the Zenfone 5 in April and then the Zenfone 5Z in June.