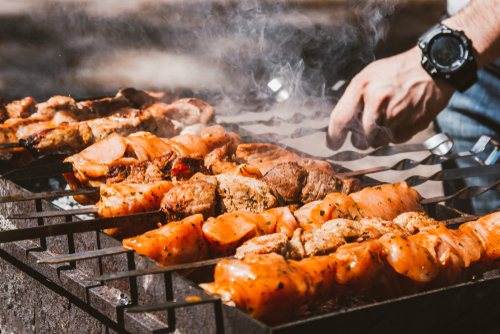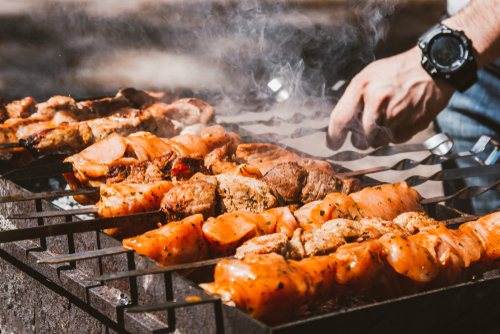 The 4th of July is almost here, and if you're like us, you're excited to have everyone over for a cook-out! The best way to...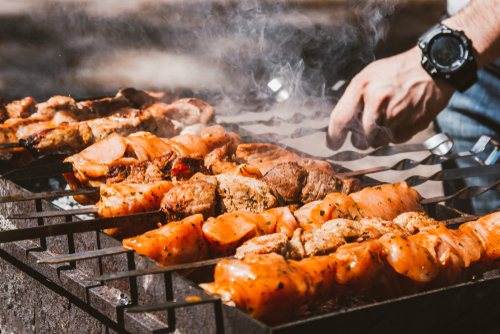 The 4th of July is almost here, and if you're like us, you're excited to have everyone over for a cook-out! The best way to make a great impression on your guests? Awesome outdoor gadgets! Independence Day just comes around once a year, so make sure you cook-out in style!  
Looftlighter
Photo Credit: Williams Sonoma 
Resembling a lightsaber, the Looftlighter is a great lighter fluid-free fire starter. If you're looking to light your grill up in style, look no further! The Looftlighter costs $80 and will save you hassle and help the environment! Not to mention, it's super cool and your guests will be wowed by it! It works by directing superheated air at the end of the aperture, almost like a super-charged hair dryer. Just point in at some kindling and keep it in that direction until it lights up! Be careful with it, though, it's tremendously hot! 
Front Runner Outfitters Spare Tire Mount
Photo Credit: Front Runner Outfitters 
For $137 you can have a spare tire holder that doubles as a grill. If you don't think that's awesome, I don't know what to tell you. If you're looking to have your Independence Day cook-out in the wilderness, drop the grate over a fire. It's designed at the right height to sit comfortably above a fire and let you grill on its steel surface. How cool is that? Perfect for those who want to enjoy a nice wilderness afternoon with friends!  
UE Wonderboom 
Photo Credit: CNET 
The Wonderboom is a compact, loud, waterproof speaker that's sure to impress. If you want something you can toss in a bag and bust out at the cook out, this little wonder is it. The folks at UE outdid themselves with this one! It can bob about in the pool, no problem, kicking out huge sound and keeping the party going. If you're the type that drops electronics in the pool, check out the Wonderboom! You can usually find them for around $70, although they're often on sale for less. Between the stellar battery life, great Bluetooth connection and loud speaker, the Wonderboom is your best bet for compact speaker.  
JBL Charge 3
Photo Credit: World's Best Outdoor Speakers 
Much like the Wonderboom, the JBL Charge 3 can withstand water like nobody's business. If you plan on charging up your gadgets by the pool, this is a great option! It boasts a USB port to charge any gadget you care to bring with you. Your guests will love getting to charge up from your speaker, too! The battery life is also stellar, although charging other gadgets up with it will reduce it. The Charge 3 costs around $150, but you can often find it on sale for less. With loud, punchy sonics and a durable body, this is another great choice for the backyard!  
UE Megaboom 
Photo Credit: Forbes 
We really like UE's outdoor speakers! The Megaboom, the bigger cousin of the Wonderboom, is a beast. It's a little expensive at $200, but it really delivers. It sports amazing sound quality and top of the line durability. It's totally waterproof, of course, so it can survive any dips in the pool. It's shock-resistant and durable, made for a pool party or camping trip. If you want a loud, durable speaker for big cook-outs, the Megaboom is what you're looking for.  
Onward GrillPro
 
Photo Credit: GrillPro 
For $18 you can pick up your very own cast-iron smoker box! If you're looking for that smokey flavor but want to save a bit of money, this is a great way to do it. Just throw the damp wood chips you want to smoke in the box and toss the box on the grill. As your grill hood fills up, the smoke will impart its flavor to whatever you're cooking. It's a great low-tech gadget and awesome grill solution!  
Maverick PT-100 Pro Temp
Photo Credit: Meadow Creek Barbeque Supply 
This fantastic thermometer from Maverick is every grill master's best friend. When you're working with meat, you want to make sure everything's gotten to safe temperatures. If you've used thermometers for your grilled food before, though, you know how painful it can be to hold your hand over a lit grill. That's why we recommend this $65 thermometer from Maverick: it takes lightning-fast readings. That way you can make sure the food is ready without having to risk burning your hand! It's win-win! 
GoSun
Photo Credit: Solar Cooker at CantinaWest 
If you live in a particularly sunny region, you might want to check out the GoSun portable solar cooker. It's only 8 pounds, and it can get up to 550 degrees! That's a lot of bang for your buck, considering it only costs $260! If you like cooking out while camping, or just want to take your grill to friend's back yard, the GoSun is a great option. The added benefit of not having to fuss with propane or charcoal makes it that much sweeter! 
Bitterman's Himalayan Salt Block
Photo Credit: Sur la Table 
If you're looking for something a bit different for your grill, try a Himalayan salt block! Sur la Table sells a Bitterman block for around $30, and it's an interesting experience. You set the block on the grill and let it heat up to the right temperature. Then, you drop your meats on it and let them cook. The satisfying sizzle is a nice touch, but it's the mineral salt flavor the block confers that steals the show. If you're looking to wow guests with some culinary awesome-ness, this is the way to do it! 
Our Favorite Outdoor Gadget for Independence Day: Grillbot 
Photo Credit: YouTube 
A robot that cleans your grill for you? That's exactly what Grillbot is for! Just plop him down on the gross, blackened grill after you're done cooking. Like an awesome backyard Roomba, it'll clean up your grill and let you spend more time enjoying your company and food. Nothing screams "it's the future" like robotic servants making life easier, huh? You can grab your Grillbot for $90 from Amazon. This little guy is easily our favorite because he's just so cool and handy! If you want your guests to think you're a high-tech grill master, look no further than Grillbot!