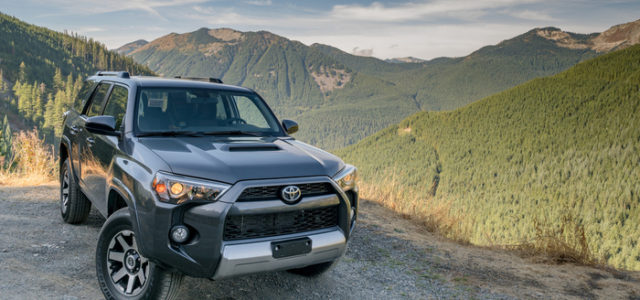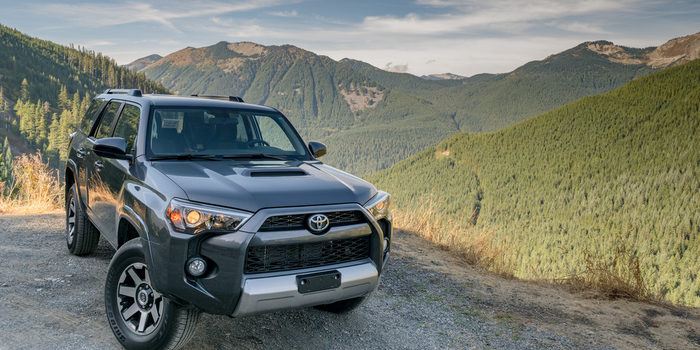 Toyota is a company known for making family-friendly vehicles that are reliable, if a little plain. One of their most well-known SUVs, the 4Runner,...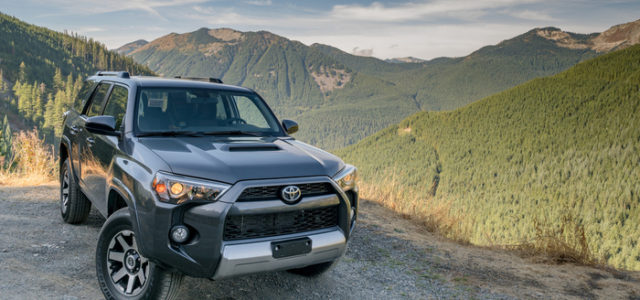 Toyota is a company known for making family-friendly vehicles that are reliable, if a little plain. One of their most well-known SUVs, the 4Runner, is a favorite among those looking for a rugged-but-practical vehicle. It's great for going around town, going to soccer games and going on trips. Today, we're taking a closer look at the design and features of the 4Runner to help you decide if it's the right vehicle for you and your family.
Toyota 4Runner
Design
The 4Runner has a very angular, boxy design that looks right at home among the rugged designs of companies like Jeep or GM. It's a far cry from the softer, smoother appearance of Toyota's Corolla or Prius models, and it stands apart thanks to its large front grille, high wheel arches and rectangular headlamps. The design is a bit divisive: some people love the rugged look, while others prefer the softer appearance of competitors' SUVs.
It's worth noting that the rugged look of the 4Runner is more than just an appearance. It's actually a rather sturdy vehicle, with body-on-a-frame design that allows it to go off-roading with no issue. If you spring for AWD, this SUV is a great choice for straying far from the beaten path. Thanks to the ample interior room, you'll also have tons of space to haul your camping or fishing supplies, too!
Interior
Speaking of the interior, the 4Runner is a bit of an odd vehicle when you're in the cabin. It's a little lacking on the tech side, offering a slightly outdated-feeling infotainment system with a small touch screen and a low screen resolution. The infotainment system's interface is a bit sluggish, and it can take some time to connect to Bluetooth devices like smartphones.
However, the ride is comfortable, and the seats are cozy. The suspension allows for a smooth ride even over rough terrain, which is great for a vehicle you'll likely be taking off-roading. This makes for a great experience riding around town, too, as the vehicle handles even poor-quality roads well while you're commuting. This is all bolstered by the great cargo space. You can even lay the back seats down to increase the amount of storage space, making the 4Runner a good choice for people who love going camping.
Engine
The engine, like much of the 4Runner, is old-school and tried-and-true. It's sporting a 4.o-liter V6 with a 5-speed transmission, the same engine that was first seen back in the 4Runner in 2004. However, Toyota seems to be sticking to a strategy of "don't fix what isn't broken", as this vehicle's engine works great for what it wants to do. The acceleration and handling are nothing to write home about, but they feel nice on a vehicle of this size.
The power response from the engine is very smooth, and the ride stays nice and relaxing even when you're getting up to highway speeds. This solid engine offers a great amount of power for what you need it to do, though it won't be winning any drag races. That said, the engine is a bit of a gas-guzzler, drinking down a gallon of gas to go only 17 miles in the city, or 21 mpg on the highway.
Bottom Line
The 4Runner is an old-school vehicle. It sports designs that date back over a decade, and it shows in the fuel economy and lack of tech in the cabin. However, for the starting price of $34,810, it offers a very rugged driving experience to those who want a straightforward and pure drive. If you're the kind of person who doesn't want bells and whistles, just a solid vehicle with solid construction, you can't go wrong with the Toyota 4Runner.