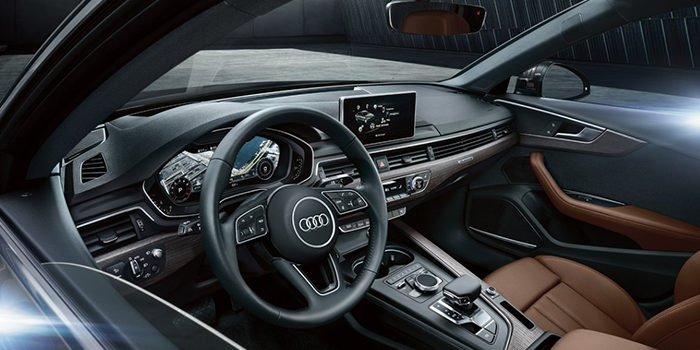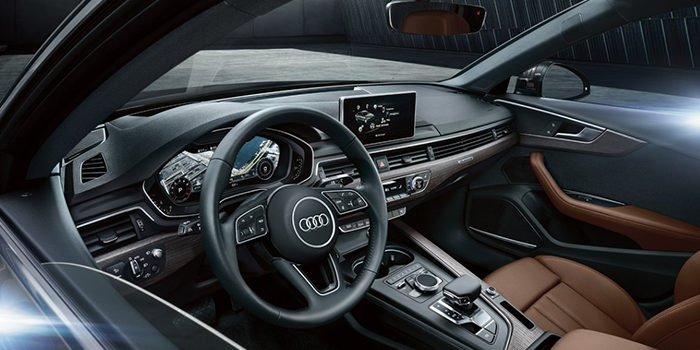 You spend a lot of your time inside your car and we know the impact the interior has on your overall driving experience. Luxury...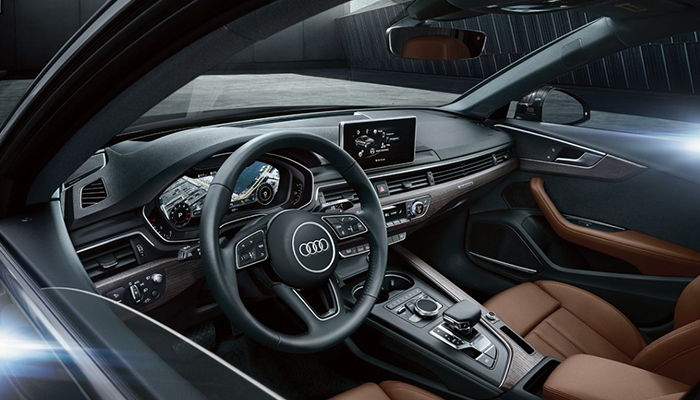 You spend a lot of your time inside your car and we know the impact the interior has on your overall driving experience. Luxury car interiors have shifted gears and broken barriers in comfort and technology during the past decade. But just how nice of a car can you get for your dollar? We have the scoop.
1. Audi A4
Starting at $39,200
Cutting-Edge Technology
While the Audi has always offered an exceptional interior experience, the A4 takes luxury interiors to the next level. They offer cutting-edge technology, starting with virtual cockpit set in a whopping 12.3-inch display. Here the driver can customize information, such as navigation, radio, and even Google Earth imagery.
MMI® touch
An amazing detail that many competitors at the A4's price point do not offer is the available 8.3-inch center display. This includes MMI® touch with handwriting recognition technology which allows drivers to write their destination quickly without distractions rather than trying to navigate the screen using their finger on the touchpad.
Pre sense®
Audi's goal is to raise the bar on the driver's experience – and awareness. The A4 is equipped with pre sense® to protect the vehicle in unusual or emergency movements as an effort to increase the drivers' awareness and help prevent accidents. It will help to detect other cars or pedestrians while automatically initiating the emergency breaks at up to 52 mph!
Easy on the eyes
Sporting high-quality leather upholstery, the A4 comfortably seats up to five people. In addition to comfort and support, the seats are ventilated and heated in both the front and rear, setting this 5-star vehicle up for success during anytime of the year!
2. BMW X3
Starting at $42,450
Passion for performance
BMW owners are notorious for their loyalty to their luxury vehicles. The X3 is a cost-effective model that includes all the luxury touches that are non-negotiable for BMW drivers. With technology such as rain sensing wipers, front and rear parking sensors, automatic emergency breaking and driver drowsiness monitoring, the X3 is crafted to sharpen the driving experience.
Distinctive design
Hop inside the X3 and revel in the high-quality materials used throughout the modern interior. The X3 seats up to five people across two surprisingly spacious rows dressed in upscale leather. With intelligent connections the X3 offers a seamless interface to include the latest version of iDrive that responds to touch, voice commands, and even gesture detection technology.
Heads-up display
Another key feature that helps this luxury vehicle stand out from the competition within its price point is the Heads-up Display. This feature offers holographic projection on the drivers windshield that provides vital driving information such as speed limits, navigation guidance and emergency warnings all while keeping your eyes on the road.
Stay connected
Always one step ahead BMW has included wireless charging and a wifi hotspot that allows your passengers to connect at ease. To put the cherry on the cake, the X3 includes a 3D Surround View App that lets you remotely view it from every angle, from anywhere. This feature is meant to give you peace of mind by allowing you to make sure your X3 is safe – and right where you left it.
3. Volvo XC90
Starting at $47,000
Scandinavian design & Swedish craftmanship
Volvo doesn't shift gears very often, but when it does, it makes it count. The XC90 breaks barriers with its cutting-edge safety and timeless design. This luxury SUV is crafted with clean, minimal Scandinavian designs as genuine walnut wood inlays and seats that even offer massage and ventilation options!
A place to relax
With word-class legroom, the X90 accommodates all your passengers in luxury and comfort with seven standard seats. Similar to a movie-theater design, the third-row seats are raised to give its passengers a better view. They can even be folded from the trunk with just a simple touch of a button.
The power of touch
The technology in the XC90 has been crafted to keep you in control all while making your life easier. Volvo wanted to display the most important features right at your fingertips by including their Digital Driver Display behind the steering wheel. This feature automatically adjusts the brightness according to the surrounding outdoor light and even projects a hologram with vital driver information on the windshield.
Get a better view, all around
The 360 Surround View Camera that gives you a bird's eye view of the XC90 and its surroundings. Connection is made easy in the XC90 so you can seamlessly connect your smartphone to Apple CarPlay and Android audio quickly and easily, every time. Use your voice to turn your XC90 into your personal assistant with capability to access your music, send messages or take calls.